It's meet the team Monday! Say hello to Mary Margaret Hogan.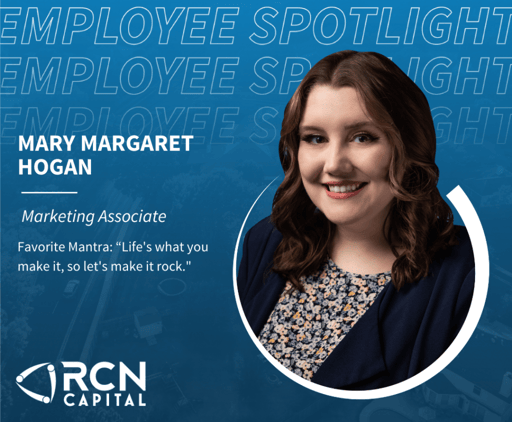 Mary Margaret joined the RCN Capital team in October of 2021 as a Marketing Associate. In her role, she assists with maintaining and amplifying RCN Capital's outreach and brand awareness throughout all marketing materials, strategies, and digital campaigns. Additionally, she is responsible for coordinating the travel arrangements for RCN Capital's extensive trade show schedule.
Mary Margaret's favorite part about her job is being a part of this talented and motivating department. The marketing team has truly crafted such an encouraging space to collaborate, create, and thrive in.
With her extensive creative background, Mary Margaret enjoys adding to the contemporary, clever, and persuasive voice of the RCN brand. Mary Margaret's strong organizational and interpersonal skills also allow her to tackle the feat of sending the sales and marketing teams to network across the country.
We're very lucky to have an enthusiastic and hard-working team member like Mary Margaret here at RCN!